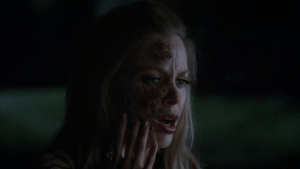 Titre original : I'm Alive and On Fire
Titre en version française :
Bande annonce de l'épisode : I'm Alive and On Fire
Résumé:
Le sang de Claudine a un effet étonnant sur Eric : Sookie voit qu'il est comme ivre et résiste bien mieux à la lumière du soleil. Il faudra l'aide d'Alcide et son odorat pour qu'ils le retrouvent avant qu'il ne se consume.
Jason est toujours captif et réduit à devoir enfanter toutes les femmes de Hotshot, mais quand une adolescente vient à son tour, il parvient à la convaincre de l'aider à le libérer. Malgré ses blessures, Jason tue dans sa fuite l'un des panthères-garou avant de fuir le village et Crystal, qui est sûre qu'il reviendra, car il fait désormais partie des leurs. Jason rejoint finalement la route, où il est récupéré par Hoyt et Jessica.
Sam essaie de se lier un peu plus avec Luna, et découvre qu'elle a une fille née d'une liaison avec un loup-garou très jaloux. Le métamorphe ne s'inquiète donc pas du sort de son frère Tommy, qui est retourné auprès de sa mère mais s'est fait capturer par son père, toujours présent.
Bill est présenté à la famille Bellefleur par Portia, mais au cours de la soirée, il découvre qu'ils sont liés par le sang : les Bellefleur sont des descendants de Bill. Troublé autant par cette révélation que par la disparition d'Eric, il essaie de forcer la porte de Sookie avant de se résigner.
Pam force la main des sorciers pour qu'ils ramènent la mémoire d'Eric ; cependant, tous ignorent que Marnie est possédée par l'esprit d'une sorcière tuée quatre siècles auparavant par l'Inquisition espagnole. La nécromancienne lance un sort à Pam qui lui détruit la peau.
Les musiques de l'épisode I'm Alive and On Fire :
"Calling the Shots" by Misisipi Mike Wolf ( musique dans le camion de Sam )
"Do You Remember" by La Luna ( Sam va chez Luna et rencontre sa fille )
"Butt Me Buster" by Helmut Reinhardt (Bill rencontre la grand mère de Portia )
"Tighten Up" by The Watson Twins (Alcide rentre chez lui après avoir aidé Sookie et raconte ce qu'il a fait à Debbie )
"Moonlight Remembers" by APM
"Twisting Wind" by Helen Henderson (Jason rampe sur la route quand Jessica et Hoyt le retrouvent )
"I'm Alive and On Fire" by Danko Jones ( crédits de fin )