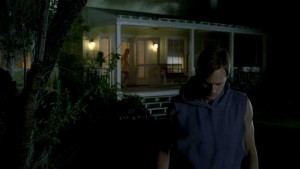 Titre original : Me and the Devil
Titre en version française :
Bande annonce de l'épisode : Me and the Devil
Résumé:
Tommy, agressé par son père, se défend et tue ce dernier, ainsi que sa mère. Avec l'aide de Sam, il jette les deux corps dans la rivière.
Marnie, après avoir jeté un sort de décomposition sur la peau de Pam, s'évanouit. Lorsqu'elle reprend ses esprits, elle explique à Lafayette, Tara et Jesus qu'elle est possédée. Elle se retrouve donc seule, Lafayette et Jesus décidant de partir au Mexique retrouver le grand-père de l'infirmier, un brujo puissant.
Arlene et Terry, paniqués par les phénomènes que provoque leur bébé Mickey, font appel au révérend Daniels pour purifier la maison des mauvais esprits. Lettie Mae, la mère de Tara, est devenue l'épouse de celui-ci.
Eric, toujours privé de sa mémoire et hébergé chez Sookie, rêve de son créateur, Godric, qui a déjà rencontré la véritable mort. Ce dernier lui dit qu'Eric est incapable d'aimer et lui ordonne de boire le sang de Sookie. À son réveil, il est sur le point de céder mais Sookie se réveille à temps. Eric lui explique qu'il a fait un mauvais rêve.
Jason, retrouvé par Jessica et Hoyt sur le bord de la route, prend le sang de la jeune vampire afin de soigner ses multiples blessures que lui ont fait les panthères-garou. Plus tard, au Merlotte, il décide de se confier à Hoyt sur ces mauvaises aventures, avant que les effets du sang de vampire ne le fassent fantasmer sur Jessica.
Bill, après avoir « convaincu » Portia d'abandonner tout espoir de liaison avec lui, s'implique plus dans le problème des nécromanciens en faisant capturer Marnie. Ce dernier l'hypnotise afin d'obtenir des réponses à ses questions, mais comprend à son tour qu'elle est possédée par l'esprit d'une sorcière ayant causé beaucoup de tort aux vampires pendant l'Inquisition.
Tara décide de repartir à la Nouvelle-Orléans pour retrouver sa petite amie, qui a malheureusement découvert sa véritable identité. Plus tôt, étant chez Sookie, elle a également vu où se cachait Éric.
Pam est forcée d'avouer à Bill qu'Éric est chez Sookie car elle révèle ce qu'il lui est arrivé devant lui et 4 autres shérifs.
Les musiques de l'épisode Me and the Devil :
"Here I Come" by Nashville Session Singers (Tara appelle Naomi qui lui pose une importante question … )
"Waitin' on the Sky" by Steve Earle (Sookie sondes Holly pour avoir plus d'informations sur le groupe des Wicca/sorcières )
"Meet Me in the Alleyway" by Steve Earle (Jason raconte à Hoyt ce qu'il s'est passé à Hotshot)
"Me and the Devil" by Gil Scott-Heron (crédits de fin )
Sookie/Eric Music Cue by Nathan Barr (Sookie et Eric s'embrassent )