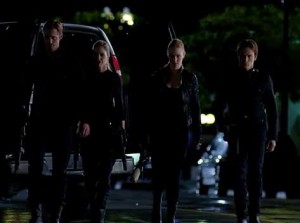 Titre original : Burning Down the House
Titre en version française :
Bande annonce de l'épisode : Burning Down the House
Résumé:
La convention tourne au bain de sang jusqu'à ce que Sookie n'utilise son pouvoir pour libérer l'emprise d'Antonia sur Éric, ce qui lui ramène également ses souvenirs. La vision des blessés crée également une rupture entre l'esprit d'Antonia et Marnie, et c'est la wiccane qui convainc la nécromancienne de continuer le combat.
Devant le risque, Bill prend les devants et planifie pour la nuit suivante une grande offensive contre la secte wiccane. Nan désapprouve, Sookie refuse de risquer la vie de Tara, toujours captive.
Terry découvre que son cousin Andy est dépendant au V. Il l'emmène de force dans leur refuge d'enfance où il passe la journée à forcer Andy à admettre sa dépendance ; leur journée seuls leur permet également de régler leurs comptes.
Alcide amène Tommy mourant auprès de son frère ; Sam lui pardonne mais jure de le venger. Ils ignorent cependant que Marcus et Debbie deviennent de plus en plus proches.
Sookie explique la soirée à Jason, pris dans ses sentiments pour son ami Hoyt et son attirance pour Jessica, Jesus et Lafayette. Le brujo est convaincu de pouvoir sauver son ancienne maîtresse, mais il déchante quand sur place, il découvre que c'est Marnie qui contrôle. Finalement, Sookie et Lafayette, avec Holly et Tara, sont prises dans un sortilège d'Antonia et les cinq disparaissent sous les yeux de Jason. Mais les vampires arrivent.
Les musiques de l'épisode Burning Down the House :
"Superstition" by The Kills (Debbie parle avec Marcus, elle veut un enfant mais Alcide non )
"Lawd Have Mercy" by El Camino (musique dans le garage de Marcus quand Alcide et Sam débarquent )
"Burning Down the House" by The Used ( credits de fin )