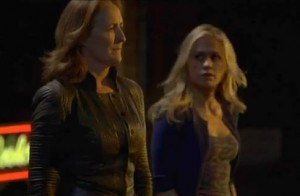 Titre original : Soul of Fire
Titre en version française :
Bande annonce de l'épisode : Soul of Fire
Résumé:
Bill, Jessica, Eric et Pam s'apprêtent à faire exploser le repère des sorcières, mais apprennent que Sookie est retenue à l'intérieur. Les vampires sont prêts à négocier avec Antonia, mais la réaction de Pam y met définitivement fin. Les sorciers entament alors un rituel qui ensorcelle les vampires ; Sookie fait appel à son pouvoir pour le faire cesser, ce qui provoque la colère de la nécromancienne. Pendant ce temps, Jesus et Lafayette préparent un rituel pour libérer l'esprit d'Antonia et briser le mur de protection. Les vampires se rendent alors immédiatement dans le bâtiment et tuent la nécromancienne.
Sam règle ses comptes avec Marcus, et c'est Alcide qui finit par tuer ce dernier, avant de renier Debbie.
Dans la forêt, Andy fait la rencontre d'une fée, qui lui demande de lui faire l'amour.
Jessica et Jason se rapprochent.
L'esprit de Marnie prend possession du corps de Lafayette.
Les musiques de l'épisode Soul of Fire :
"You Need Love » by Muddy Waters ( Marcus qui parle à Debbie au sujet de s'enfuir avec lui et Emma)
"What Shall I Wear" by Modern Music Nashville ( musique à la TV à la maison de Luna )
"Soul of Fire" by Witch ( crédits de fin )