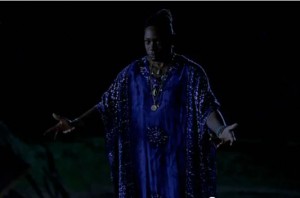 Titre original : And When I Die
Titre en version française :
Bande annonce de l'épisode : And When I Die
Résumé:
Marnie, dans le corps de Lafayette, acquiert un nouveau pouvoir grâce à Jesus, et compte l'utiliser pour se venger de Bill et Eric. Holly, aidée de Sookie et Tara, lancent une incantation pour combattre Marnie. Sookie fait part de son choix à ses deux amants. Jason avoue sa relation avec Jessica à Hoyt. Sam et Luna envisagent une fin heureuse. Nan dévoile ses intentions à Bill et Eric mais n'est pas la bienvenue. Debbie veut régler ses comptes avec Sookie. Alcide découvre que Russel Edgington a été libéré.
Les musiques de l'épisode And When I Die :
"Drivin' Nails in My Coffin" by Those Darlins ( Arlene en Zombie croise Sookie et lui dit pour Tommy; Sookie parle à Sam dans son bureau )
"Rockin' Bones" by Ronnie Dawson (Arlene avec ses enfants Cobe et Lisa; Sam leur présente Emma)
"Monster Mash" by Boris Pickett & The Crypt-Kickers (Alcide parle avec Sookie au Merlotte)
"On a Fast Moving Train" by The Great Crusades (Sookie parle avec Holly à l'extérieur du Merlotte )
"The Bucket of Blood" by The Great Crusades (Arlene sort les poubelles et tombe sur l'esprit de Rene)
"Where Did You Sleep Last Night" by Jim Oblon (Le petit chaperon rouge/Jessica traverse les bois jusqu'à la maison de Jason)
"Aly, Walk With Me" by The Raveonettes (Jessica et Jason sur le canapé … )
"Dogs of Hell" by Jason Novak (Pam à le cafard et Ginger la réconforte )
"And When I Die" by The Heavy ( crédits de fin )