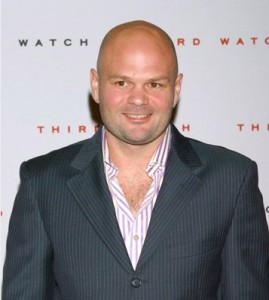 Mark Christopher Bauer est un acteur américain  né le 28 octobre 1966 à Los Angeles, Californie.
Chris Bauer est  Diplômé du lycée « Miramonte » à Orinda, Californie, en 1984, il intégra par la suite l'Université de San Diego et fut diplômé de « Yale School of Drama ».
Bauer interpréta Lloyd Gettys en 1997 dans le film L'Associé du diable et apparut comme le personnage masqué intitulé « Machine » dans le film 8mm avec Nicolas Cage. Il est apparu dans la seconde saison de la série télévisée The Wire interprétant le personnage de Frank Sobotka. Il interpréta également le rôle de Fred Yokas, le mari de Faith Yokas, dans la série télévisée New York 911 de 1999 à 2005. Bauer joua aussi un agent du FBI « Dodd » dans la série télévisée Smith, dans la minisérie The Lost Room. Dans le monde des films indépendants, il a joué dans le film Neal Cassady interprétant l'écrivain Ken Kesey.
Filmographie
1989 : Jack Killian, l'homme au micro (TV)
1992 : New York police judiciaire (TV)
1994 : Le Retour des Incorruptibles (TV)
1996 : New York Undercover (TV)
1996 : New York police judiciaire (TV)
1997 : Colin Fritz
1997 : Coup de foudre et conséquences
1997 : Volte-face
1997 : Blanche-Neige : le plus horrible des contes
1997 : Harry dans tous ses états
1997 : Pour une nuit…
1997 : Back Home
1997 : L'Associé du diable
1998 : Pas facile d'être papa
1999 : 8MM
1999 : CSS Hunley, le premier sous-marin
1999 : Broadway, 39ème rue
1999 : New York 911 (TV)
1999 : Accords et désaccords
1999 : Personne n'est parfait(e)
2000 : Animal Factory
2000 : High Fidelity
2000 : The Photographer
2004 : The Story of Calvin Stoller, Last Abstract Expressionist
2001 : 61* (TV)
2001 : Le Fugitif (TV)
2001 : Dead Last (TV)
2001 : Taking Back Our Town (TV)
2002 : Anatomy of a Breakup
2002 : Bug
2002 : New York police judiciaire (TV)
2002 : Angels Crest
2003 : Sur écoute (TV)
2003 : Keane : Bartender
2005 : The Exonerated (TV)
2005 : Jonny Zero (TV)
2005 : Tilt (TV)
2005 : Our Fathers (TV)
2005 : Broken Flowers
2005 : The Notorious Bettie Page
2005 : Esprits criminels (TV)
2006 : Conviction (TV)
2006 : Mémoires de nos pères
2006 : The American Experience (TV)
2006 : Les Maîtres de l'horreur (TV)
2006 : Smith (TV)
2006 : The Lost Room (TV)
2007 : Les Experts (TV)
2007 : New York section criminelle (TV)
2007 : Bernard and Doris
2007 : The Black Donnellys (TV)
2007 : True Blood (TV)
2008 : The Guitar
2008 : New Amsterdam (TV)
2009 : Fringe (TV)