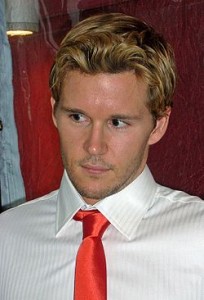 Ryan Kwanten est un acteur né le 28 novembre 1976 à Sydney (Australie). Il joue actuellement (2009) dans la série True Blood .
Biographie
C'est en accompagnant son frère à une audition que Ryan Kwanten est remarqué par un directeur de casting. Le monde de la comédie lui est alors ouvert. Il débute à la télévision australienne en 1991 par un petit rôle de surfer dans le soap Home and Away. En 1997, il est rappelé pour y incarner l'un des rôles principaux pendant 3 saisons. Entre temps, il fait ses armes avec un rôle récurrent dans un autre soap, A Country Practice (1992), suivi de rôles réguliers dans Echo Point (1995) et dans la mini série Spellbinder: Land of the Dragon Lord (1997).
Le téléfilm The Junction Boys en 2002 marque son premier rôle aux États-Unis. Il passe ensuite par les séries FBI : opérations secrètes et Tru Calling avant de s'établir en ancien champion de surf reconverti dans les 2 saisons de Summerland (2005) aux côtés de Lori Loughlin, créatrice de la série dont elle tient le rôle principal.
Sur le grand écran, Ryan Kwanten commence par un rôle de second plan dans le film australien Signal One (1994). En 2003, il incarne à nouveau un surfer dans Liquid Bridge avant d'apparaître dans America Brown l'année suivante.
En 2008 il est à l'affiche de la nouvelle série de HBO : True Blood dont il interprète l'un des rôles principaux, celui de Jason Stackhouse.
Filmographie
Flicka (2006)
Summerland (2005) – Saison 2
Summerland (2004) – Saison 1
America Brown (2003)
FBI : opérations secrètes (2003) – Saison 1
Tru Calling : compte à rebours (2003) – Saison 1
The Junction Boys ( 2002 )
Dead Silence (2007)
True Blood (2008) – Saison 1
source : wikipédia