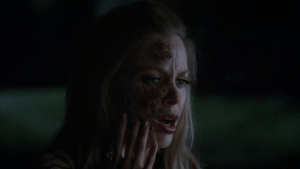 True Blood Episode 4 saison 4 I'm Alive and On Fire, Vos réactions !
Un épisode un peu mollasson, mais qui semble mettre en place une possible relation entre Eric et Sookie, un Jason enfin libre mais loin d'être sortie de galère et comme d'habitude avec True Blood, une fin d'épisode qui donne une terrible envie d'être au déjà dimanche prochain pour voir l'épisode suivant !
L'épisode 5 est intitulé Me and the Devil et il sera diffusé le 24 juillet.
En attendant, n'hésitez pas à donner votre avis sur cet épisode en commentaire.