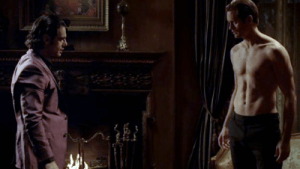 Titre original : Night on the Sun
Titre en version française :
Bande annonce de l'épisode : Night on the Sun
Résumé:
Sookie, ne pouvant pardonner à Bill son agression décide de rompre avec lui.
La Reine Sophie-Anne emménage dans la demeure de Russel au grand désarrois de Talbot.
Bill, de retour à Bon Temps, libère Jessica de son emprise de créateur et lui demande de partir mais celle ci refuse de le quitter, il finit donc par l'entrainer à se déplacer plus vite afin d'affronter des Loups garous.
Après avoir raccompagner Sookie chez elle, Alcide est contraint de repartir au Mississippi car Debbie s'en est pris à sa sœur et a bruler le salon de coiffure de Janice.
La maman de Lafayette s'est échappée de l'institution psychiatrique et rend visite à son fils en le prévenant d'une attaque de vampires, Lafayette demande alors de l'aide à Jesus pour venir la récupérer.
Arlene briefe Holly comme nouvelle serveuse au Merlotte. Tommy cherche les ennuis au Merlotte, notamment avec Hoyt qui cherche Jessica pour lui parler.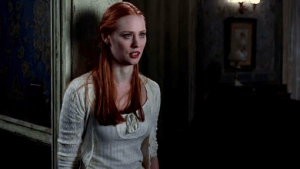 Crystal s'invite à la porte de l'appartement de Jason, lui demande de lui prêter son 4×4 mais la voyant battue au visage, Jason décide de la protéger et de la garder chez lui, puis prétextant d'aller chercher à manger, part retrouver son fiancé armé d'un fusil…
Hadley fait passer à cousine de Sookie le message qu'Eric lui a confié, de fuir car Russel et les loups garous viendraient la chercher et qu'elle ne devait pas croire Bill.
Jason tombe sur le père de Crystal et lui ordonne de rester loin d'elle sous peine de voir tous les flics débarquer chez lui.
Debbie et deux loups garous pénètre dans la maison de Sookie, Bill et Jessica s'occupe chacun d'un loup et Debbie retrouve Sookie dans sa chambre qui l'attend avec un fusil.
Eric est resté à la demeure de Russel pour tenir compagnie à Talbot, après une partie d'Échec il demande à avoir plus d'intimité…
Jessica poursuit le loup à l'extérieur de la maison et se fait attraper par Russel, Bill se voit alors obliger de défier Russel pour libérer Jessica, et alors que Bill est en mauvaise posture, Eric enfonce un pieu dans le dos de Talbot, et Russel perçoit la mort de Talbot et s'envole pour Jackson, libérant alors Bill…
Après une bagarre acharnée, Sookie finit par prendre le dessus sur Debbie.
Bill retrouve alors Sookie pour une chaude étreinte…
Les musiques de l'épisode Night on the Sun :
"Tea Biscuit" par Eduardo Ponsdomenech (Russell apprend à Talbot qu'il a tué l'ordonnateur )
"Till You Lay Down Your Heavy Load" par Eilen Jewell (Lafayette conforte Tara qui est traumatisé )
"Dynamite and Whiskey" par Fred Eaglesmith (Arlene fait un cauchemar à propos de Rene; Arlene parle à la nouvelle serveuse )
"Another Year Again" par The Sadies (Tommy se bagarre avec Hoyt au Merlotte )
"Kiss Like Your Kiss" par Lucinda Williams avec Elvis Costello (Crystal et Jason parlent après l'amour )
"Straight Into A Storm" par Deer Tick (Calvin Norris cherche sa fille au Merlotte )
"Nacao Postal" par Beto Villares (Eric et Talbot jouent aux échecs jusqu'à ce que Talbot s'ennuie )
"Night On The Sun" par Iron Horse (Jason se rend à Hotshot et voit quelqu'un manger un animal cru )
"Head" par Otep (Hoyt est sur la route alors que Jessica se nourrit d'un loup garou dans le contre bas; Bill et Sookie font l'amour ; crédits de fin de l'épisode )