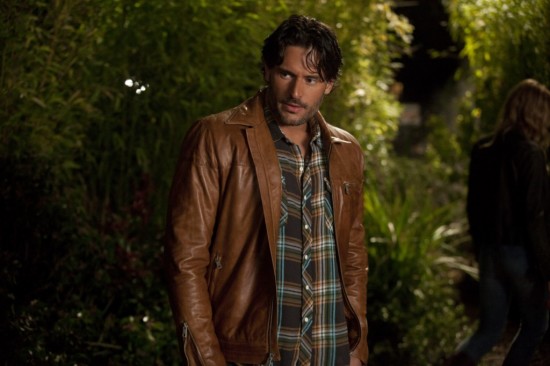 Titre original : I Wish I Was the Moon
Titre en version française :
Bande annonce de l'épisode : I Wish I Was the Moon
Résumé:
Bill fait mettre aux arrêts Eric alors qu'il allait faire l'amour avec Sookie. Devant la menace qu'il représente maintenant qu'il est contrôlé par une nécromancienne, il demande à ce que l'Autorité lui permette de le tuer ; requête acceptée.
Le lendemain, Sam découvre les ruines de la maison qu'il louait à Arlene et Terry, miraculeusement indemnes ainsi que le bébé, qui se trouvait dehors au moment où la maison explosait. Cet événement, qui rapproche curieusement Andy et Holly, accapare Sam qui confie les rênes du Merlotte's à son frère. Or, ce dernier découvre que le meurtre de ses parents lui permet de prendre une autre apparence humaine, celle de Sam. Il en profite pour renvoyer Sookie, séduire quelques clientes et coucher avec Luna avant de perdre connaissance.
À Shreveport, Alcide voit d'un mauvais œil la décision de Debbie de rejoindre la meute de la ville. Le loup solitaire accepte à contre-cœur de la suivre.
C'est dans cette ambiance troublée que Naomi découvre la véritable vie de sa petite amie, Tara. À peine arrivée au Merlotte, elles voient Jessica accourir aux côtés de Jason, dont elle a ressenti la peur par le lien du sang. En effet, c'est la pleine lune et les bois sont un lieu propice aux rencontres surnaturelles. Ceci n'effraie pas Sookie qui part à la recherche de Jason, rassurée par Alcide et Debbie qui lui ont affirmé que Jason n'est pas devenu un panthère-garou.
Au Mexique, Jesus essaie toujours de convaincre son grand-père de l'aider, mais il fait plus confiance aux pouvoirs de Lafayette : pendant le rituel, le vieux sorcier prend un crotale pour qu'il morde Jesus, et c'est Lafayette qui se fait posséder par un esprit afin qu'il guérisse son compagnon.
Finalement, alors que dans ses caves, Marnie est totalement possédée par la sorcière espagnole, Bill libère Eric. Celui-ci court rejoindre Sookie avant qu'il ne fassent l'amour dans les bois, sous la lumière de la pleine lune.
Les musiques de l'épisode I Wish I Was the Moon :
"Las Olas Del Mar" by El Son Que Faltaba ( Le grand père de Jesus demande à Jesus et Lafayette de lui ramener un sacrifice)
"What'd I Do" by Lance Miller ("Sam/Tommy" vire Sookie)
"Brand New Man" by Brooks & Dunn ("Sam/Tommy" parle à Maxine Fortenberry à propos de Tommy)
"Hide Me" by Hayes Caryll (Alcide se dispute avec Debbie à propos de rejoindre le clan de Marcus )
"The Soul of a Man Never Dies" by John Hatton (Tara amène Naomi au Merlotte ; Jessica part à la rencontre de Jason)
"Mexico" by The Spares (Pam attaque Tara et Naomi)
"I Wish I Was the Moon" by Neko Case (Sookie et Eric réunis dans les bois et crédits de fin)