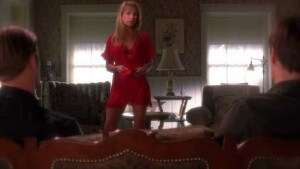 Titre original : Let's Get Out of Here
Titre en version française :
Bande annonce de l'épisode : Let's Get Out of Here
Résumé:
Sookie est sauvée par Alcide et Bill, qui lui donne son sang, ce qui la fait fantasmer sur ses deux amants vampires. Comme elle s'inquiète plus pour Eric que pour elle, Alcide lui tourne le dos et rejoint la meute de Marcus. Celui-ci souhaite s'occuper de Sam, mais c'est Tommy qui se rend au rendez-vous avec l'apparence de son frère. Il se fait violemment frapper jusqu'à ce qu'Alcide décide de mettre fin au passage à tabac.
Antonia est résolue à frapper un grand coup en utilisant Eric pour tuer Bill lors de la convention que les vampires préparent. Tous les wiccans refusent, sauf Roy ; Antonia choisit de les retenir en otage.
Lafayette, possédée par Mavis qui a enlevé Mikey, se rend dans l'ancienne demeure de l'esprit, aujourd'hui chez Hoyt. Jason, Andy, puis Arlene et Terry essaient d'entrer, mais c'est Jesus qui, par un rituel de sorcellerie, parvient à apaiser l'esprit en déterrant son corps.
Sookie, remise de ses hallucinations, reçoit l'aide inattendue de Debbie, qui a replongé dans le V, pour prévenir Bill de la situation. Mais elle arrive tard : Antonia a envoûté trois shérifs vampires qui déciment les humains présents à la convention, et Eric s'apprête à tuer son roi.
Les musiques de l'épisode Let's Get Out of Here :
"Sleep Walk" by Henri Rene (Sookie fantasme sur Eric et Bill)
"Stray Dog" by Kevin Welch (Tommy rencontre Marcus au Merlotte)
"Theme from Picnic" by Terry Snyder (Sookie dans son fantasme déclare à Eric et Bill qu'elle veut les deux )
"Tears Wellin' Up" by Chris Norton & Frank Mize
"Haunted" by Taylor Swift
"Let's Get Out of Here" by Les Savy Fav