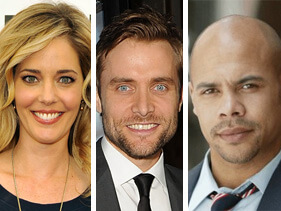 Vous pensiez que le casting de la saison 4 était clos et bien pas du tout, voici trois nouvelles entrées pour la saison 4 de True Blood.
Tout d'abord, Neil Hopkins ( il a joué le frère de Charlie dans Lost) a décroché le rôle de Claude, le frère de Claudine ( Lara Pulver) , personnage dont aucune allusion a été faite dans la série. Par contre dans les livres, c'est un magnifique, beau, et décapant danseur gai.
Christina Moore ( vu dans la série That '70s Show) a été casté pour le rôle de Suzanne McKitterick, la ménagère du Texas dont les pouvoirs spéciaux attire l'attention de Sam.
Chris Butler ( vu dans The Good Wife) jouera Emory Broome, un autre métamorphe qui peut ou non avoir un lien avec Suzanne.