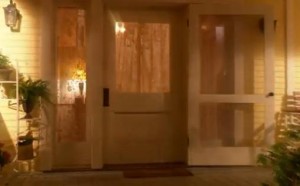 Une nouvelle vidéo promo pour la saison 5 de True Blood vient d'être ajoutée sur la chaîne officielle de HBO sur Youtube, une première vidéo intitulée Echoes Of The Past – « Sookie's House » ( échos du passé – « Maison de Sookie » ) dans laquelle on revit de par les dialogues, mais sans les images, quelques éléments qui se sont passés dans la maison de Sookie, avec son choix d'y laisser entrer un vampire ( Bill ) jusqu'aux évènements de la fin de la saison 4 que vous connaissez déjà tous 5 ( pauvre Tara ).
« You can't escape your past » / Vous ne pouvez pas échapper à votre passé .
On peut se douter que d'autres vidéos de ce type vont également bientôt faire leur apparition sur la chaîne avant une véritable bande annonce avec des images de la saison, True Blood saison 5 c'est pour cet été 2012 !

Mise à jour :
Il y a également les vidéos pour la maison de Bill et pour le Fangtasia !