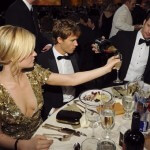 C'était le 17 janvier dernier ! Et malgré la soirée haute en élégance, TRUE BLOOD est reparti bredouille !
Dans la nuit du 17 au 18 janvier, les résultats des 67ème Golden Globes 2010 ont été annoncés. Malheureusement, ni Anna Paquin (nominée comme meilleure actrice dans une série dramatique), ni True Blood (meilleure série dramatique) n'ont gagné cette récompense…
A noter qu'Anna Paquin était également nominée pour son rôle dans le téléfilm « The Courageous Heart Of Irena Sendler ».
Source : true-blood.hypnoweb.net