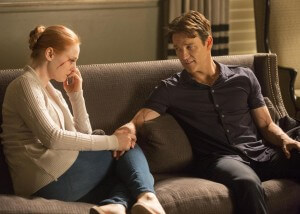 Les audiences de la fin de série sont très stables pour True Blood avec le dernier épisode en date, l'épisode 7×07 qui a rassemblé un total de 3.39 millions de téléspectateurs devant HBO pour regarder l'épisode intitulé « May Be The Last Time ».
C'est une très légère augmentation d'à peine 10 000 téléspectateurs par rapport à l'épisode 7×06 qui avait rassemblé un total de 3.38 millions de fans.
Il ne reste désormais plus que 3 petits épisodes avant de conclure la septième et ultime saison de True Blood, vous pouvez retrouver la bande annonce de l'épisode 7×08 ici, il sera diffusé sur HBO le dimanche 10 aout puis le lundi suivant sur OCS city.