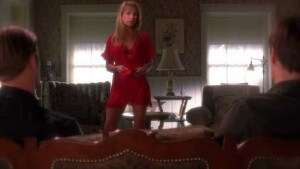 Let's Get Out of Here est de nouveau un très bon épisode pour cette saison 4 qui tient réellement ses promesses.
L'histoire entre Lafayette, désormais médium, et le bébé d'Arlène semble réglée.
Sam semble avoir trouvé le bonheur mais ces histoires de famille le poursuivent …
Sookie désormais sous l'emprise du sang d'Eric et de Bill fait de drôles de rêves…
Jessica trouve du réconfort dans les bras de Jason … ça risque d'être dur à encaisser pour Hoyt.
Et bien sûr la bataille entre les vampires et la sorcière Marnie/Antonia qui fait désormais rage avec Eric sous le contrôle d'Antonia, Bill pris pour cible et Sookie qui tente de sauver ses deux vampires préférés !
Affaire à suivre dès dimanche prochain 28 aout avec l'épisode 10 intitulé Burning Down the House.