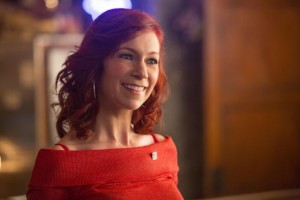 « May Be The Last Time » sera le titre de l'épisode 7×07 de True Blood et on va malheureusement devoir se faire à l'idée que la série va bientôt se clôturer alors qu'il ne reste plus que 4 épisodes pour finir la saison et la série.
HBO vient de publier les images promotionnelles de l'épisode 7 ainsi qu'un webclip que je vous propose de découvrir sans plus attendre.
Dans la galerie de photos, on retrouve les portraits de Sookie, Arlène et Sarah Newlin puis Jessica en pleur à coté de Bill.

Le Webclip est une scène de l'épisode 7×07 dans laquelle on retrouve une discussion entre Pam et Eric, Eric annonce à Pam qu'il veut tuer Sarah Newlin comme c'était prévu mais Pam veut la capturer sachant qu'elle est l'antidote à l'hépatite V.
L'épisode 7 saison 7 de True Blood sera diffusé le dimanche 3 aout sur HBO et le lundi 4 aout sur OCS city.