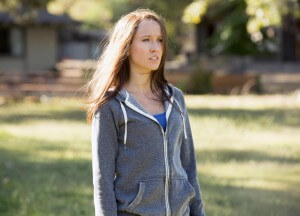 A chaque épisode, on se rapproche inévitable de la fin de la série et le titre de l'épisode diffusé hier soir sur HBO est assez évocateur. Portant le titre de « May Be the Last Time », cet épisode 7 saison 7 annonce la toute fin de True Blood alors qu'il ne reste désormais plus que 3 épisodes au compteur.
Au résumé de cet épisode 7×07, à Dallas on retrouve Eric, Pam et Mr. Gus qui parviennent à mettre la main sur Sarah Newlin. Pendant ce temps, à Bon Temps, Adilyn et Wade se retrouvent dans un refuge temporaire mais font face à une hospitalité inattendue. Sookie refuse d'accepter l'inévitable et désespérée, elle emploie des moyens inattendus en quête d'un miracle. Dans un flashback le ramenant 170 ans plus tôt, Bill se remémore les forces inexorables qui l'ont conduites à son mariage.
Enfin, un visage familier refait surface à Bon Temps alors que Sam doit faire face à un dilemme.
Avez-vous ce nouvel épisode de True Blood? Donnez nous vos réactions à chaud !