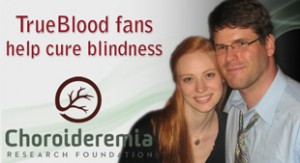 The Vault propose une tombola pouvant vous faire gagner l'un des 5 lots collectors True Blood mis en jeu.
Pour participer il vous suffit de faire un don pour la Choroideremia Research Foundation ( 100% des dons iront à la fondation )
La Choroïdérémie est une dégénérescence de la choroïde et de la rétine survenant lentement. La choroïdérémie est à l'origine d'une diminution de l'acuité visuelle de plus en plus intense.
E.J. Scott, le petit ami de Deborah Ann Woll est atteint de cette maladie.
La participation est ouverte au monde entier. Un ticket vaut 5 $ ( dans les 3.4 euros ).
Voici les lots mis en jeu :
* 1° prix: 1 script original du pilote de True Blood dédicacé par Alan Ball
* 2° prix: 1 BluRay deTrue Blood Season 1 dédicacé par Alan Ball
* 3° prix: 1 t-shirt I ♥ Vampire dédicacé et personnalisé par Deborah Ann Woll
* 4° prix: 1 portrait personnalisé et dédicacé par Deborah Ann Woll
* 5° prix: 1 bouteille de Tru Blood dédicacé par Sam Trammell, Nelsan Ellis, Ashley Jones, Todd Lowe et Allan Hyde.
Toutes les informations supplémentaires ( photos des lots, modalités de participation ) sont sur The Vault.