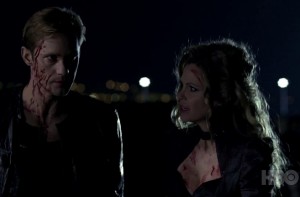 On a jamais été aussi proche de la sixième saison de True Blood avec la diffusion sur HBO pour ce dimanche 16 juin à 21h.
Je vous propose aujourd'hui 3 nouvelles vidéos issues du premier épisode de la saison 6 qui sera intitulé « Who Are You, Really? ». Un titre qui pourrait faire allusion à ce qu'est devenu Bill en buvant le sang de Lilith et c'est d'ailleurs le sujet de la première des vidéos que je vous propose de voir aujourd'hui.
« I am Bill Compton, though clearly I am something more. I see that now. I see everything so differently now, » annonce Bill à Sookie, Jessica, Eric et Nora qui le regardent dans la confusion.
Mais Bill n'est pas le seul à choquer son monde au début de la saison 6. Dans le second extrait vidéo, Eric interpelle Pam quand elle découvre qu'il a une sœur qu'il n'a jamais parlé d'elle.
Ce qui est encore plus surprenant et suspect, c'est la réponse d'Eric à l'interrogatoire de Pam, alors qu'il s'accroche à elle et lui dit: « This is not the time! Get over it and have my back or get out of my face! »
Enfin, dans la troisième vidéo, Sookie aura aussi une révélation dès le début de la saison, mais sur une note plus légère, alors qu'elle tombe sur Ben, un bel inconnu qui a des capacités de fée comme les siennes.
Je vous laisse avec les extraits vidéos et vous donne rendez-vous dimanche soir sur HBO pour le premier épisode 6×01.