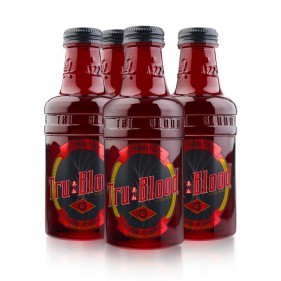 En attendant les vraies publicités pour la boisson à base d'orange sangine Tru Blood,
Voici quelques petites annonces relatant des bienfaits de la boisson à base de sang synthétique  élaboré dans les laboratoires Japonais et permettant aux vampires d'étancher leur soif .
Mais aussi quelques pubs liés à l'univers de True blood, des détracteurs ( fellowship of the sun ) comme des plus malins qui profitent de cette nouvelle niche commerciale.
Des spots bourrés d'humour qu'il vous faut voir au moins une fois tant ils collent parfaitement avec l'esprit de la série.
TRU BLOOD BAR SPOT

TRU BLOOD SEXY COUPLE SPOT

French Tru Blood commercial

American Tru Blood commercial

True Blood: Fellowship Of The Sun Ad (HBO)

True Blood – Vampire service ad: Vampire Hotels

True Blood – Vampire service ad: Vampire Dating

True Blood – Vampire service ad: Lawyers that service Vampires

Et beaucoup d'autres vidéos sur le youtube de bloodcopycom