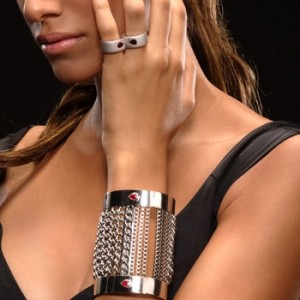 HBO croque dans la mode en proposant une ligne de bijoux tirée de notre série préférée.
C'est le créateur Udi Behr qui s'est occupé du design de la collection, il utilise argent, cuir et rubis pour une collection plutôt séduisante!
Les photos jointent à l'article sont les pièces de la collection de bijoux « True Blood » de Udi Behr, dont le design a été élaboré en collaboration avec HBO !
Behr propose une collection de bagues, de colliers et boucle d'oreilles inspirée de la série tv et Le tout bien sur dans le style gothique avec argent, cuir, acier inoxydable et rubis avec des prix allant de $59 to $1,295 ( 41.3 € à 906.5 € ) !
Propos de Behr au sujet de la collection :
« Je me suis beaucoup amusé avec cette collection, je ne voulais pas juste créer encore une simple collection de bijoux de vampires, et ça a été un réel challenge pour moi.
J'ai du saisir l'esprit de la série, celle ci est très sexy et porte beaucoup sur la séduction et l'éternité. J'ai souhaité récupérer tout ça lors de la création. »
La dernière collection de Behr « Love, Peace, and Hope » lui a permis de gagner le prix du designer de l'année dans Luxury Magazine, et ses bijoux ont été porté par des célébrités comme Sharon Stone, et Elton John, ceux qui a attiré HBO vers le créateur.
Propos de James Costos, vice président de la section merchandasing:
 » Nous avons beaucoup aimé travailler avec Udi Behr, ses création sont uniques sur le marché et la collection de bijoux a vraiment réussi à saisir l'essence de la série »
d'autres bijoux True blood :