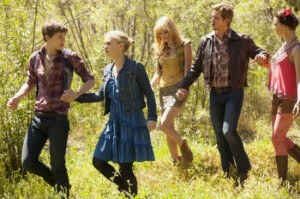 Après un épisode 7 qui a pas mal divisé les fans, l'épisode 8 a été diffusé hier soir sur la chaine américain HBO, un épisode 5×08 intitulé « Somebody That I Used to Know ».
Au programme de ce huitième épisode de la saison 5 de True Blood, au siège de l'Autorité Vampire, les chanceliers se délecte de la rémanence des événements récents… Eric reçoit un nouveau message de feu son créateur Godric alors que Bill est secoué par un lointain souvenir….
Aidé par Claude et ses sœurs, Sookie et Jason visite le site de décès de leurs parents, avec des résultats pour le moins choquants. Luna tente désormais de se rapprocher plus de Sam.
Les nouveaux amis de Hoyt lui apportent un présent…
Lafayette conduit une séance afin de purger la malédiction Ifrit de Terry.
JD augmente les enjeux de son combat avec Alcide…
Avez-vous vu ce huitième épisode ? Quelles sont vos réactions à chaud ?