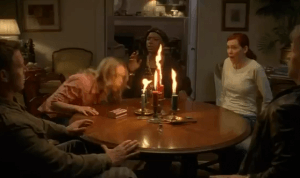 Après un épisode 7 disons assez spécial, je vous propose la bande annonce de l'épisode 8 intitulé « Somebody That I Used to Know », on sent que la fin est proche et le rythme monte d'un cran dans ce huitième épisode avec au programme la suite du changement radical de direction de l'autorité vampire mené par Salome, Nora et Russel et dans lequel Bill et Eric semblent désormais impliqué.
Sookie qui semble bien décidé à perdre ses pouvoirs de fée afin de devenir normal…
Lafayette, de retour à Bon Temps, propose ses services de sorcier pour aider Terry contre Ifrit.
Le combat pour le contrôle de la meute entre Alcide et JD a commencé …
Sam est toujours à la poursuite des tueurs de métamorphes, Jessica semble en bien mauvaise posture et Tara semble apprécier de plus en plus son statut de vampire …
Je ne vous en dis pas plus et vous laisse avec la bande annonce, qui nous donne déjà envie d'être à dimanche prochain, le 29 juillet pour l'épisode 5×08 de True Blood sur la chaine américain HBO.